I was so excited (ridiculously, stupid, total SPAZ excited) this week when tuning into my favorite podcast, Terrifyingly Beautiful.
I will often comment on their Facebook page, and a few weeks ago I made some comments about how credit cards, and shopping in general, freak me out. And this week's podcast topic? SHOPPING! While I wasn't mentioned by name (by the way, WTF Kevin & David??), I was at least credited as "a listener" in the topic/discussion (which I guess is better than them saying my name and getting it wrong – like calling my Stephanie, which happens all the time. Or Susan.*)
(*Not that I am dissing any Susans out there. It's a perfectly lovely name! This is TOTALLY related to my husband's first job. I used to pick him up at work, and the owner's mom worked the front desk. She would call back – "Dave, Susan's here!" no matter HOW MANY TIMES I told her my name is Tiffani. Then one day, after like a year of this, one of his co-workers walked by and said, "Hey Tiffani," and she was like "I thought your name was Susan! Why didn't you tell me?"… … "It's a mystery, ma'am.")
But anyway… the credit card thing. Lemme share with you what I shared with them.
Credit card readers – what the hell? I have one of those chip cards and every freaking place seems to work differently. If I swipe, I need to insert; if I insert, I need to swipe. I'm so convinced the cashiers are thinking, "My GOD, can't you even work a credit card? Are you stupid or something?" that now I get so stressed that I can't read any of the stuff that's written on or near the card reader, so then when I swipe instead of insert and it turns out there's a HUGE sticker on the thing that says "No Swipe," I feel EXTRA stupid and awkward so now I'm even MORE neurotic the next time I go to pay for something… It's a horrible, horrible cycle. Also, it's ridiculous. I shouldn't be this damn traumatized by trying to buy a cup of coffee. Grrrr.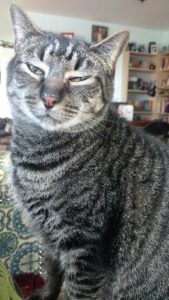 And a bonus tidbit about shopping from my fun and paranoid mind!
Items with no price marked – if I see an item I want to buy but the price isn't marked, I have to immediately decide – am I willing to buy it no matter WHAT it costs? Because otherwise I can't buy it, because I WILL NOT ask how much it is. I just know if I ask how much it costs, and then decide not to buy it that it makes me look like I can't afford it … or maybe I shouldn't even be in the store… or maybe I'm just a cheap bitch making their lives harder because they have to restock this item I have now dragged all the way up to the front of the store…
I even feel acutely uncomfortable when I'm standing in line and the person in front of me at the register is like "How much was that? Never mind, I don't want it," sometimes on item after item – not because they're holding up the line, but because I am embarrassed for them. Ironically these people clearly don't GIVE A SHIT, but I'm so neurotic about this that I'm freaked out enough for both of us. (There is NO logical to any of this, I know. Ain't nobody got time to put this much thought into some customer they don't even know. But welcome to my brain.)
BTW – Where's my commission?
I feel I should point out that I'm receiving nothing in compensation for my (repeated) mention of Terrifyingly Beautiful – I just really like it and think everyone should give it a listen.
(Though, come to think of it… as many times as have already mentioned them in this blog or on Facebook – I TOTALLY deserve something. Where's my recompense, Kevin & David??? Show a girl some love. And by love I mean cash. Or Paypal payment. I'm flexible…)